from April 5th, 2007
Is Mother Nature entering Menopause?! On the crazy freeze/thaw of early Spring.
(An article I wrote originally for the local Era Banner.)
Mother Nature's mood swings this spring are extreme! Perennial plants NEED a cold winter to stay safe during their dormant period. We had record cold temperatures for February and, so far, April has been well below normal. What's the problem then? The record WARM temperatures we had in January and March!
In central Ontario our early spring weather is usually erratic, but 2007 saw temperatureextremes more severe than any in my gardening memory. A warm spell in January lasted long enough to cause alarm among horticultural experts with reports coming in from all over southern Ontario of buds beginning to swell on trees and shrubs and even a few spring bulbs popping.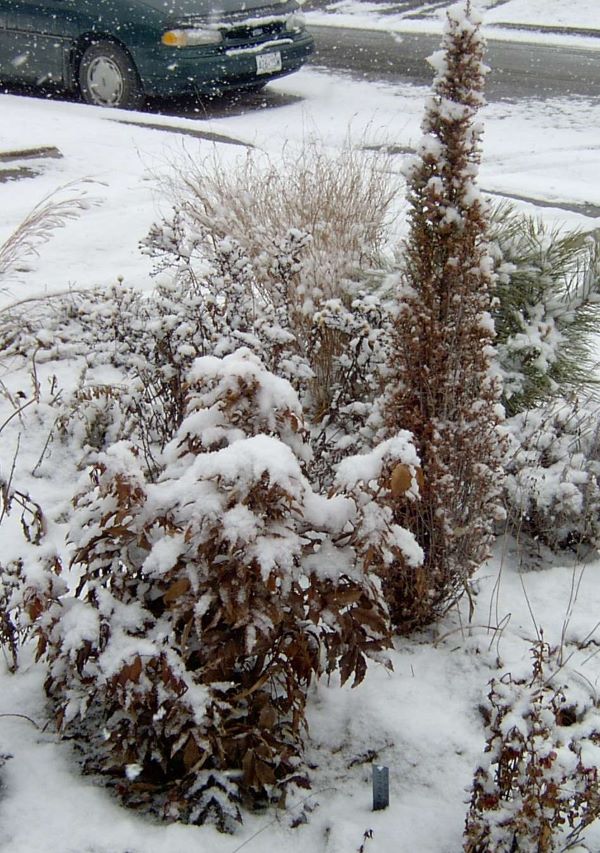 When winter finally arrived in mid January we quickly dipped down to normal temperatures and had good snow cover, and I thought we just may have nipped disaster in the bud. (excuse the pun I couldn't resist!). The February thaw we always experience just plain didn't happen. Instead Mother Nature kept all her warm thoughts bundled up and concentrated on a late March warming that, again, lasted much longer than usual, sending the signal to plants that spring had firmly arrived. Wouldn't it have been wonderful had this been true!
But alas, it was too good to be true as it is also routine for us to experience many last blasts of winter in April. But our plants didn't know this so in the sunshine and +10ish temperatures of late March flower buds on trees and shrubs broke dormancy and perennials started showing themselves above ground.

There's no doubt we'll see the effects of these extremes on many early blooming shrubs such as magnolias, forsythias, elderberry, and rhododendrons, with lots of flower bud damage. It may have been a deadly situation for some roses, viburnums and newly planted shrubs. Even a few of the late spring bloomers such as crabapples, lilacs, and some fruit trees may have experienced some flower bud damage.

It isn't just gardeners that may be affected by this unhappy situation though. Flower bud damage on fruit trees may show up in the price we'll pay for fresh fruit later this summer since reduced flowering, of course, leads to reduced crop yields. Depending on cultural practices (winter mulch protection, or not), the strawberry and other small berry harvests may also be affected. The extent of the damage depends on plant species and the stage of plant development just before the cold April temperatures hit with a bang. Let's cross our fingers! Not much else to be done.

In my Newmarket garden, thankfully no shrubs had yet unfolded their leaves and flowering perennials, for the most part, had poked their noses up only fractions of an inch, but sunny exposures in gardens to the south may have prematurely warmed enough for leaf damage to also occur.

Overall your spring plants may behave poorly this year with dead flower buds and perhaps freeze burned foliage, but don't panic and rush out for any plant-problem-fix-its. The culprit is simply Mother Nature in a particularly bad mood this spring and your plants will recover and leaf out again. You may need to wait until next year to see a good full blooming on some shrubs again though. If any of your plants have been severely affected, extra TLC this summer during any drought spells and perhaps a few shovel fulls of compost will help them recover.

I'm not normally one for burlaping or otherwise protecting shrubs during the vulnerable period of March & April, but this cross-my-fingers attitude will likely cost me dearly this year! In the rush to plant up my new garden last fall, plants were put into the ground without the appropriate care and I didn't get a compost mulch on until just recently. This test-the-limits approach teaches me a lot about plant adaptation and survival techniques that serve me well in the gardening classes I teach, but boy - this year my gardening lesson probably bears a hefty price tag! I'll see just how many plants succumbed to this extreme see / saw winter in a few weeks, but with the heaved root balls and browned buds all over my new garden, it certainly doesn't look promising. Check in with me later this month when I'll yet again pass on words of wisdom learned from hard experience!

Happy Spring! Evelyn

©Evelyn Wolf, 2019. All rights reserved. Contact for permission to use.