...from my "Dirty Knees" email newsletter, March 18th 2011




March to-do's. ... already lots you can do for a jump start on the season.


This is the time of the garden season when weather forecast watching becomes a bit of an obsession in itself for us. Will winter come for a day or two again and frost bite emerging plants? Will spring rush to summer's warmth too quickly for a good Tulip show? Any freezing rain in the forecast that will pool and rot the crown of plants just stirring from dormancy?

Here in our zone 4 northern York Region gardening climate, it's very frustrating to make plans for a spring garden since "spring" is so different from one year to the next. At this point "They" are calling for a long cool spring this year. While this sounds discouraging for cottagers, campers, and the winter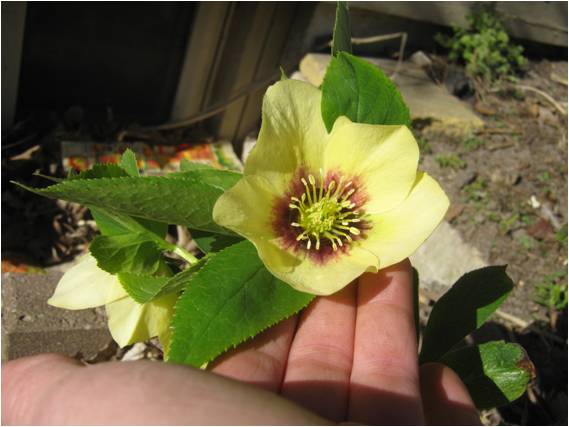 hibernators among us (like me!), this is good news for gardens! Long and cool is what all spring blooming plants need for a good long show. (I planted tons of tulips last year and can't wait to see how many the squirrels left for me.)

In my own garden I love to include some plants that bloom in very early spring. Seeing flower buds opening amid the last of the melting snow is more heartening for a winter weary gardener than any good weather forecast could be. The last of the lingering snow cover in my garden just melted off yesterday to reveal Hellebore flower buds just days away from opening and the first few flowers are opening on my Witchhazel 'Diane' in a rich deep red. I like to think of these super early signs of the many flowers to come, as Mother Nature declaring her superior weather forecasting skills – if she says it's OK for her subjects to start the growing season, then it must be spring!



Late March To-Do list –


~ try not to let spring fever get the better of you! In the middle of March while watching early spring flowers come along, it's hard to remember that we're still a full 8 weeks away from our climate zone's last frost date in late May, when it's fully safe to plant tender annuals and veggies, and that it's very likely we'll still get lots of below zero nights.
~ Don't uncover any broadleaved evergreens protected from winter damage with burlap or pine boughs yet – Rhododendrons or Pieris in particular. Their flower buds are very sensitive to damage from these late spring frosts during the intense sunshine of spring that is fooling them into blooming too early.
~ Start weeding! The very definition of a "weed" is a plant that knows how to outwit more well-behaved plants. One way they do this is by germinating seed extremely early, or are evergreen and ready to zoom into flower and drop seed before being bullied out by main season plants. We haven't even had a chance to dust off gardening tools for the new season yet before chickweed, for example, is blooming and dropping seed! It's still pretty mucky at this time of year but as soon as you can, get out there and dig up all the evergreen weeds you probably didn't even notice were there last fall. (see side note "tip" on wet soil). Easy to find at this time of year since they're often the only thing in a garden that's green in March and early April! Get them before they drop seed which may only be a couple of weeks from now.
on WET SPRING SOIL.
Walking on your garden's soil or on your lawn when it is very wet, as it is in spring before ground thaw is complete, can cause permanent damage to the soil. It compacts and doesn't regroup once it's dried out. Get out there early in spring by all means - get those weeds early ... plant some new things ... but lay out a wide board to walk on to spread your weight and protect the soil.~ Make a plan for your lawn's Corn Gluten application to prevent this year's crop of new weeds in your lawn. Overwintered weed seeds will be germinating over the next few weeks and corn gluten will kill them before they have a chance to open and develop roots. Overseeding with new grass seed in spring is also a good standard practice, but careful - corn gluten will kill those seeds as they germinate too, so timing is important - that's why laying out a plan on your calendar is a smart thing to do.

Corn gluten is effective at killing newly germinating seed of any kind, for up to 6 weeks. Overseeding and applying corn gluten are two very good things to do for natural lawn care, but the two things must be well timed. Either apply corn gluten now and wait 6 weeks before overseeding with grass seed, or spread the grass seed now and wait for at least 4 weeks to allow the grass seed to germinate and grow some roots before spreading corn gluten. Doing both at the same time will be a waste of the grass seed since the corn gluten will kill the newly germinating seed. Once the new grass plants have put down some roots, corn gluten won't harm them at all – in fact corn gluten is a natural source of nitrogen and will feed the developing grass plants. Corn gluten, used correctly is very effective at controlling weeds if used correctly and regularly. An all natural weed 'n feed! Getting the timing right though is the key to its effectiveness - BEFORE the weeds appear, not after.

Happy Spring! Evelyn


©Evelyn Wolf, 2019. All rights reserved. Please contact for permission to use.