... an excerpt from my January 2012 "Dirty Knees" newsletter I used to email.

E.


COPPICING. This severe pruning technique creates unique effects you might want to use in your planting design.



... when a branch is cut, it's stimulated into more growth than it otherwise would put out. We tend to think of pruning as removing growth, but the actual result is MORE growth. Pruning is the art of controlling where on the plant more growth will happen. When pruning you need to look into the future and "see" the growth results of each cut. Coppicing is using this natural response in an extreme way.

Seeing in the minds eye what growth pattern will result from each cut, is the tricky part of any pruning. Topiary, espalier, pollarding, hedging, or 100 year old shrubs still vibrant and full of flowers are just some of the many ornamental effects that can be achieved when you work together with the 100% guarantee that a healthy plant WILL respond in a predicable way to your pruning cuts. Coppicing is just one of the many effects that result from trusting in this 100% guarantee of a predictable result.

Coppicing is a particularly severe pruning technique, but it can produce some dramatic results. It is the practice of annually cutting a tree or shrub back to the same point each year, or even all the way to the ground, to stimulate very vigorous regrowth. It is called "pollarding" when it's done higher in the plant to achieve a lollipop effect, and it's called "coppicing" when it's done at the base of the plant at ground level to achieve other desirable effects.

It is an ancient art with its roots in the practicality of producing a renewed supply of manageably sized firewood, but has a more ornamental role to play in our gardens. It is not a pruning technique that's healthy for a plant, but it serves a particular purpose - be it for firewood or a unique design effect. If you plan to prune this way, know that you need to also watch regularly for diseased wood that may develop because of the unnatural growth you've forced.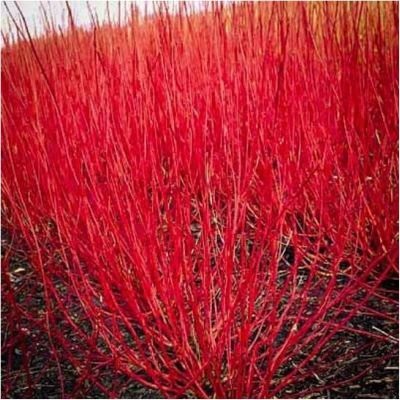 Coppicing also serves an additional purpose - as a last resort for rejuvenating an old shrub that has grown too large or has too many congested branches. Technically, this isn't called coppicing, but all the same principles and plant reactions apply. All branches are cut to the ground, then after all the vigorous new growth has ripened, you start training what is, in essence, a whole new plant. Select a few of the best branches from the dozens that will sprout as a result of coppicing, and remove the others completely. This creates a basic framework for a renewed life. In subsequent years you can start pruning it normally to shape it as you wish.

Another use of the coppicing technique is to stimulate lots of fresh stem growth with intense colour. Dogwoods are a particularly good candidate for this since their red stem colour is brightest on new wood. Cutting them right back to the ground each spring produces the brightest possible stem colour to shine against the snow of the following winter in a fireworks display of long straight branches. An established healthy Dogwood receiving adequate moisture can grow branches 4 feet to 5 feet tall each year when pruned this way. There's one major caveat to remember though - this is a severe and plant weakening pruning technique. If done every year, the shrub will decline in health and lose it's come-back vigor, so every 3rd year or so, leave it alone and let it grow to full size so it can have a full compliment of leaves to soak up sunlight and feed itself properly. (Overall, a shrub is dwarfed by regular coppicing because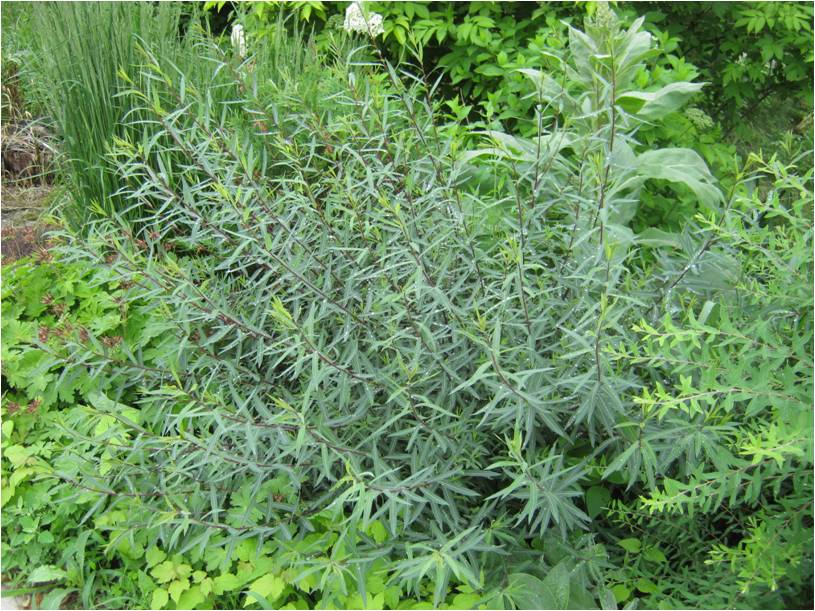 of this weakening effect - sometimes, exactly what you want!)

Another design effect on particular plants can be achieved with coppicing. Because coppicing removes all of the growth buds that were along all the branches you cut off, the few buds that remain at the base of the plant receive all the energy stored in the roots, so those few buds grow at a phenomenally strong and fast rate. Long, straight and strong branches are the result - an ornamental feature you can put to unique advantage. The most striking example is with Cotinus coggygria, (a.k.a.Purple Smoke Bush). When coppiced early each spring, their branches grow 5 feet tall at least - all perfectly straight and upwards, full of huge purple leaves. Long purple wands swaying in the breeze. Beautiful! Another shrub this long straight wand effect looks great on is Salix purpurea, (a.k.a. Purpleosier Willow). Again - the reminder though - the plant will be dwarfed, but this can be a good thing if you want to achieve this particular effect and keep it small to mix in with your smaller garden rather than letting it grow to it's mature 8' - 10' size.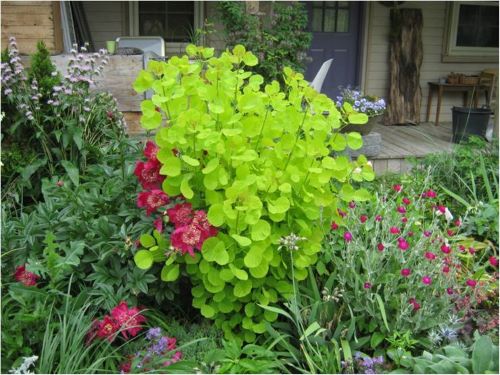 There are many other pruning techniques to learn and, as mentioned above, the starting point is to trust in the 100% guarantee that a healthy shrub will respond predictably to a pruning cut. How vigorously it responds depends on its typical growth rate, the health of the plant, how much you've pruned away at that moment, and whether it has enough moisture to support fast growth.

Coppicing is best done in early spring or very late fall since you're not concerned about flowering, but in stem colour or the long straight wand effect instead. I can't stress enough though just how much this technique is torturous to a shrub or tree, but in the spirit of "the essence of gardening is control", you can achieve particular effects that are unique and beautiful with knowledgeable pruning.

Experiment with this strong pruning approach to discover some unique effects, but only on healthy established plants.



Evelyn



©Evelyn Wolf, 2019. All rights reserved. Please contact for permission to use.