Gardening is such a solitary activity, but at the same time, gardeners love to share! ...share tips ... share new plant finds ... a few leftover seeds ... news on places to shop ... a pest control tip ... successes or failures with plants ... etc. But there's so little time in the heart of the gardening season to write! So, I'll use this diary page to quickly share jot highlights, good or bad.
Check in weekly for current LOCAL tips, news or asides. I'll enter notes from the front lines of my garden battle fields that might help you with yours! Email anytime if you have a question and I'll post answers here for other reader's to learn from too.
Happy 2019 season! Evelyn

Found a few Lily Beetles on my Frittilary! My lilies aren't even out of the ground yet, but Frittilary are, so the adults emerged from the soil around them where they overwintered.

I found most of them and crushed them, but a couple got away from me and dropped to the ground.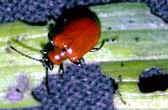 Grrrr.

This is the first sign of this horrible pest I've seen in my garden, so I'll have to be vigilant about checking them regularly for the next couple of weeks. (Go to the "Collected Wisdom" page for a thorough article on how to keep this pest under control.)

grass is green ... crocus and Iris reticulata are blooming ... and there's SNOW in the forecast for the weekend! This see saw of temperatures isn't unusual for this time of year, but still frustrating!
Iris reticulata are among the first of the spring bulbs to bloom, just after snowdrops and the earliest Crocus.
Very easy to grow, and the variety "Harmony', my favourite, has intense deep purple, open and upright flowers. The variety 'Katherine Hodgkin' is pale lavender with purple marks and yellow centers. Unlike their tall cousins, Iris reticulata are small bulbs that should be planted in Fall, just as you would tulips. In my gardening, only a few crocus bulbs bloomed earlier, and down the street, the snowdrops are nearing the end of their time.

Something's blooming in my garden! ...cold and windy all week with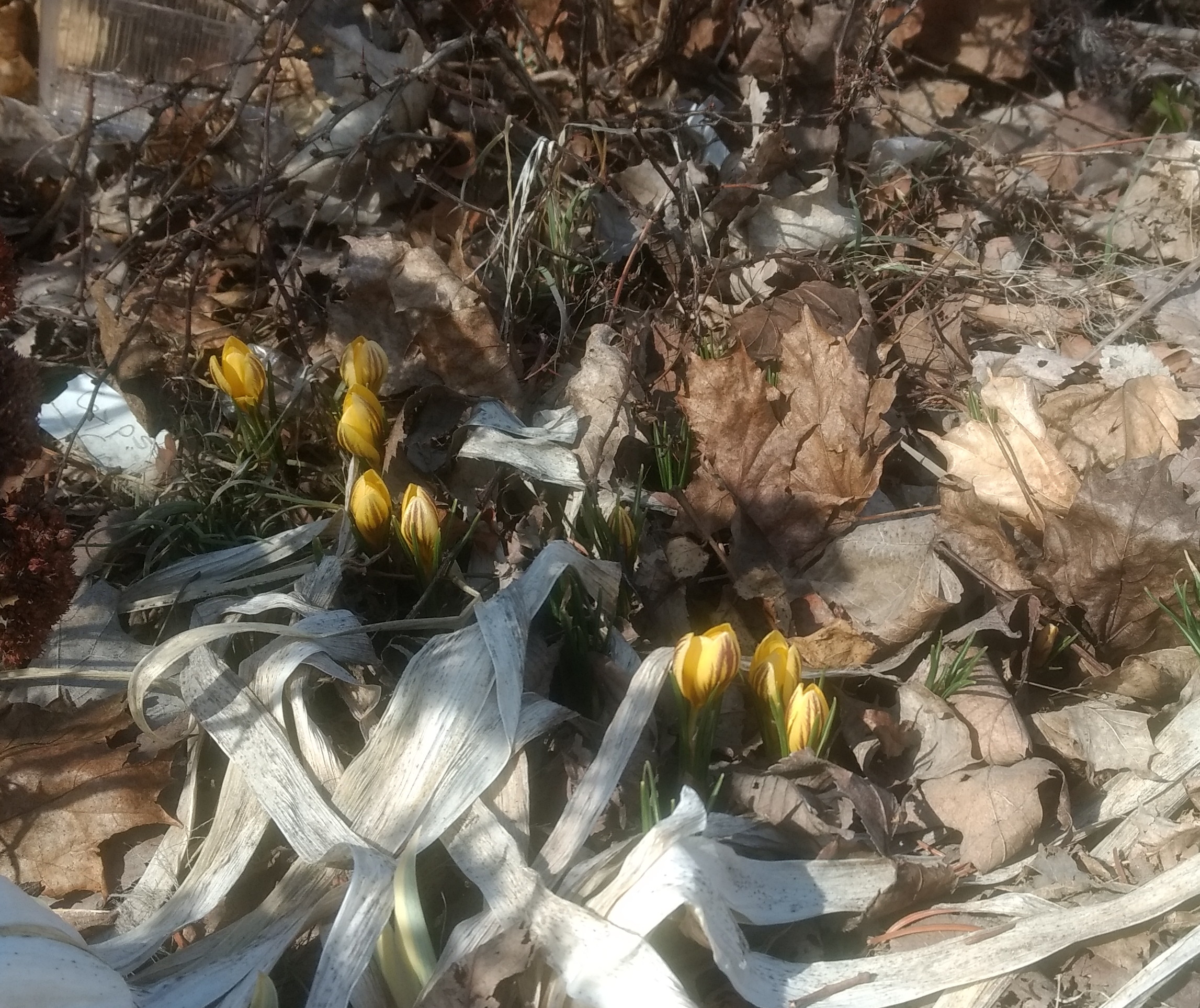 nights below zero, but that hasn't deterred the Crocus 'Gypsy Girl' I planted fall '17. Small, but with colouring just like a bumble bee's - deep yellow with brown stripes, it really grabs the eye. 2nd year in a row that it has been the very first thing to bloom (and I have a lot of early blooming bulbs), so this isn't a fluke. I'll have to get a whole bunch to plant in clients' gardens. Crocus are so small and fleeting, but such a treat to have something blooming while we're still in winter coats! Quote of the week. You might think that after 1000's of years of coming up too soon and getting frozen, the crocus family would have had a little sense knocked into it. Robert Benchley

launched .YRgardening.ca today! Working frantically to round out the choice of articles posted.

...a gorgeous sunny day but the snow that fell over the weekend is making everything a muddy mess. Temps hovering in the single digits still, with night's dipping below zero. ...tempting to get out there and clean up some of the ugly winter weary plant debris, but best to leave it for a couple of weeks until ground frost loosens it's grip allowing soil to dry up a bit, before it's safe to walk on the lawn or garden soil for fear of permanently damaging the soil. Maybe I'll get busy in the potting shed and plant up some veggie seeds instead to soothe my gardening itch. (read "Sowing Seed - an act of confidence...")


Hmmm ... Mother Nature's April Fool's Day joke? Not so funny!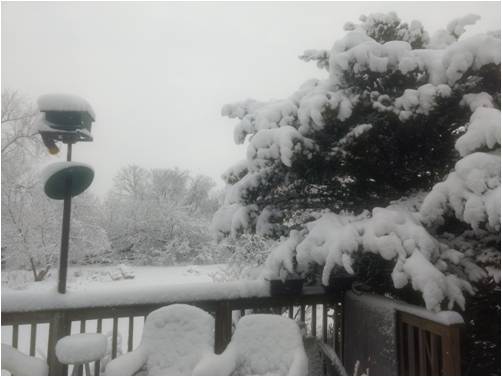 This happens every year though in our climate zone. We'll likely get another hit of wintry weather again before spring is truly here. (read "...freeze / thaw of spring on "Articles" page. linkto...). Right up to our last frost date near the end of May, a snowy day is pretty normal.
Quote of the week. ...recognize that the plants are actually doing the work and you are just there to watch and occasionally save them from disaster... Abby Adams in Gardener's Gripe Book

Couldn't wait to get out plant shopping, even though it's far too early. Headed to Dave's and picked up a new Peony - 'Scarlet O'Hara'.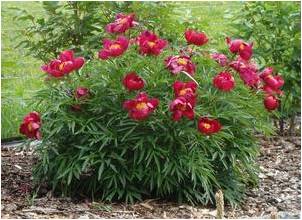 ...and they had more of the fabulous Peony 'Early Scout'! Grabbed 2 since he'll likely sell out as soon as the season opens. I'll have to store all the plants I bought under a greenhouse-y cover on the front porch for a few weeks - but the immersion in a sea of green and flowers was a much needed pick-me-up! Quote of the week.
A plant is the most cliche thing, but a little bit of green has a great effect on happiness... Bobby Berk

Threw a few Buttercrunch lettuce seeds in a large pot to take in and out as weather allows. Hopefully I'll be eating a few fresh lettuce leaves by the time it's OK to plant outdoors! Love the smooth tenderness of this variety - aptly named! Might be too early for seed, but no harm in trying for the sake of a few pennies worth of seed. (one week later - nothing yet - forgot to bring them in last night and it was only +1degrees!). Quote of the week. A callused palm and dirty fingernails precede a green thumb. Mike Garofalo

...possibly the very worst weather patterns for gardens that I've ever experienced! The damaging freeze/thaw started as early as late Nov with lots of rain that then froze because of colder than normal temps ...a week long spell of above zero in January melted surface snow that froze around the crown of plants once it got cold again ...same thing again in late February topped by more freezing rain ...and an early prolonged melt in late March made the the ice cap thicker since there's just nowhere for the water to go until the ground thaws! What a mess! ...and it's only early April - very likely we'll get another hit of winter temps. At least half of the plants I've overwintered in pots will be dead, I'm sure.